ABOUT OUR CRABMEAT . . .
The Chesapeake Bay blue crab contains one of the sweetest, tastiest meats available. Metompkin believes that there is no finer seafood available and takes great pride in the quality of their product.
Blue crabs are unloaded daily onto Metompkin's dock by their professional watermen. These crabs are immediately steam pressure-cooked to lock in the meat's flavor. Once they are cooled to a temperature of 40° F, they are picked, either in the traditional manner of hand picking or by a mechanical picking machine.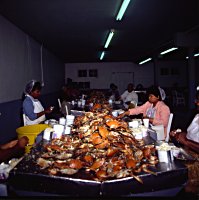 The traditional method of hand picking of the blue crab is a skill highly respected along the Chesapeake Bay. Metompkin's professional pickers are extremely adept at removing the meat from the blue crab while ensuring that the meat is boneless. The modern mechanical method of crab picking also produces top quality crab meat, and trained professionals are on hand to check for the quality of the meat and bone removal.
After the meat is removed from the crab's shell, it is table-ready and is packed in one pound cans, iced, and shipped immediately to the customer. Fresh crab meat has a shelf life of seven to ten days.
Metompkin also employs licensed technicians in pasteurization, an additional cooking process which occurs after the meat has been picked from the crabs' bodies. The meat is sealed in water-tight containers and cooked in a waterbath before being cooled to a temperature of 32° to 37° F. This process achieves a bacterial kill that increases the shelf life of the crab meat for up to one year.
Whether fresh or pasteurized, Metompkin's blue crab meat is among the finest and is a treat that should not be missed.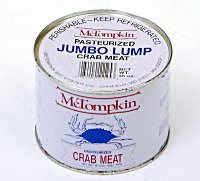 METOMPKIN BRAND DOMESTIC PASTEURIZED CRABMEAT
| | | | |
| --- | --- | --- | --- |
| TYPE | PACKAGING | BOX PACK | AIR CARGO |
| Machine Claw | 1 lb. Metal Can | 50 lbs. Chest Pack | 100 lbs. EQ |
| Hand Picked Claw | 1 lb. Metal Can | 50 lbs. Chest Pack | 100 lbs. EQ |
| Cocktail Claw | 1 lb. Metal Can | 50 lbs. Chest Pack | 100 lbs. EQ |
| Special | 1 lb. Metal Can | 50 lbs. Chest Pack | 100 lbs. EQ |
| Backfin | 1 lb. Metal Can | 50 lbs. Chest Pack | 100 lbs. EQ |
| Jumbo Lump | 1 lb. Metal Can | 50 lbs. Chest Pack | 100 lbs. EQ |
METOMPKIN BRAND FRESH DOMESTIC CRABMEAT
| | | | |
| --- | --- | --- | --- |
| TYPE | PACKAGING | BOX PACK | AIR CARGO |
| Machine Claw | 1 lb. Plastic Cup | 50 lbs. Chest Pack | 100 lbs. EQ |
| Hand Picked Claw | 1 lb. Plastic Cup | 50 lbs. Chest Pack | 100 lbs. EQ |
| Special | 1 lb. Plastic Cup | 50 lbs. Chest Pack | 100 lbs. EQ |
| Backfin | 1 lb. Plastic Cup | 50 lbs. Chest Pack | 100 lbs. EQ |
| Jumbo Lump | 1 lb. Plastic Cup | 50 lbs. Chest Pack | 100 lbs. EQ |
METOMPKIN BRAND IMPORTED PASTEURIZED CRABMEAT
| | | | |
| --- | --- | --- | --- |
| TYPE | PACKAGING | BOX PACK | AIR CARGO |
| Claw | 1 lb. Metal Can | 12 lbs. Per Box | 96 lbs. EQ |
| Special | 1 lb. Metal Can | 12 lbs. Per Box | 96 lbs. EQ |
| Backfin | 1 lb. Metal Can | 12 lbs. Per Box | 96 lbs. EQ |
| Lump | 1 lb. Metal Can | 12 lbs. Per Box | 96 lbs. EQ |
| Jumbo Lump | 1 lb. Metal Can | 12 lbs. Per Box | 96 lbs. EQ |
| Colossal | 1 lb. Metal Can | 12 lbs. Per Box | 96 lbs. EQ |