ABOUT OUR SOFTSHELL CRABS . . .
Metompkin Bay Oyster Company, under second and third generation family management, is one of the foremost processors of the soft shell crab along the Chesapeake Bay. Under their watchful eye, only the freshest crabs are purchased daily assuring the customer of top-of-the-line, quality products.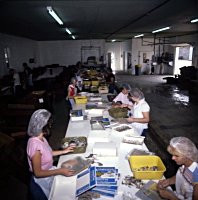 Processing of the soft shell crab, which takes place about five months out of the year due to the seasonality of the catch, is geared to a two hour turn around time after the crabs reach Metompkin's dock. Each crab is individually selected for freshness and graded according to size and quality. The crabs are then "processed" (the removal of gills, eyes, mouth, and abdomen) and individually wrapped and placed in their freezer. The end product is a delightful delicacy which proves to have many advantages over the live soft shell crab. Such advantages are:
| | |
| --- | --- |
| No Lossage | Stable Shelf Life |
| Pan Ready | Year Around Supply |
| Assured Quality | Easy Shipping and Storage |
Soft shell crabs may also be shipped in its live condition. Only the freshest, liveliest crabs are selected for shipment and are packed in cool sea grasses. Wet and iced, the crabs arrive at their destination by overnight air or by land. With proper handling, Metompkin is able to achieve a 90 percent survival rate of its live shipments, which constitutes approximately one-third of their daily supply.
Metompkin's experience in the soft crab industry allows them to maintain costs without compromising the quality of their product so that their customers receive only top quality crabs at competitive, reasonable prices.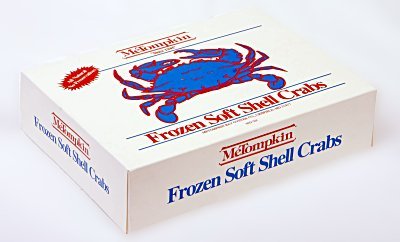 PACKAGING
FROZEN SOFT CRABS
| | | | | |
| --- | --- | --- | --- | --- |
| GRADES | SIZE | WEIGHT/BOX | UNITS/BOX | CASE PACK |
| Mediums | 3 ½ to 4" | 4 ½ to 5 lbs. | 4 Dozen | 40 Dozen |
| Hotel Primes | 4 to 4 ½" | 6 to 6 ½ lbs. | 4 Dozen | 40 Dozen |
| Primes | 4 ½ to 5" | 5 to 5 ½ lbs. | 2 ½ Dozen | 25 Dozen |
| Jumbos | 5 to 6" | 5 ¼ to 5-3/4 lbs. | 2 Dozen | 20 Dozen |
| Whales | 6" and over | 5 to 5-3/4 lbs. | 1 ½ Dozen | 15 Dozen |
LIVE SOFT CRABS
| | | | |
| --- | --- | --- | --- |
| GRADES | DOZ/TRAY | DOZ/TRUNK | DOZ/EQ CONT. |
| Mediums | 6 Dozen | 18 Dozen | 24 Dozen |
| Hotel Primes | 5 Dozen | 15 Dozen | 20 Dozen |
| Primes | 4 Dozen | 12 Dozen | 16 Dozen |
| Jumbos | 3 Dozen | 9 Dozen | 12 Dozen |
| Whales | 2 Dozen | 6 Dozen | 8 Dozen |
IMPORTED PRODUCTS PACKAGING
METOMPKIN BRAND FROZEN GOLDEN SOFT SHELL CRABS
| | | | |
| --- | --- | --- | --- |
| GRADES | WEIGHT/BOX | UNITS PER BOX | CASE PACK |
| Primes | 2-1/2 to 2-3/4 lbs. | 14 Crabs x 15 Boxes | 17 ½ Dozen |
| Jumbos | 2-1/2 to 2-3/4 lbs. | 12 Crabs x 15 Boxes | 15 Dozen |
| Whales | 2-1/2 to 2-3/4 lbs. | 10 Crabs x 15 Boxes | 12 ½ Dozen |
| Super Whales | 2-1/2 to 2-3/4 lbs. | 8 Crabs x 15 Boxes | 10 Dozen |