ABOUT OUR OYSTERS . . .
Metompkin Bay Oyster Company has maintained an oyster processing plant on the shores of the Annemessex River located on the Chesapeake Bay since 1948. Metompkin's employees have many years of experience in supplying high quality oysters for their customers needs.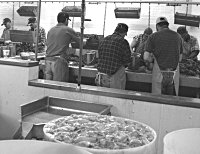 Metompkin ensures such high quality by buying only oysters that will yield meats of the most desirable type and which will be delivered in the freshest possible condition. This is achieved by a state-of-the-art processing plant. Our oysters are unloaded into twenty bushel cages on our dock. The oysters from these cages are then dumped into a large hopper which feeds the oysters onto an over-head conveyor system that delivers the oysters to the individual shucker. These professional shuckers remove the meat from the shell and grade the oysters according to size. These freshly shucked oysters are weighed, washed, and dried before they are packaged and shipped in their fresh state to the customer. The waste oyster shell is automatically removed from the processing area by a conveyor system.
Metompkin's oysters are also sold as "shellstock". Here, the oysters are loaded onto a conveyor belt where trained individuals inspect and hand-pick oysters according to their size and shape while washing the outside shell of the oyster. These hand-picked oysters contain a perfect, round-shaped meat, thick through the middle, which is perfect for eating on the half-shell.
With such attention to quality, Metompkin's customers are assured of the finest and freshest quality seafood available.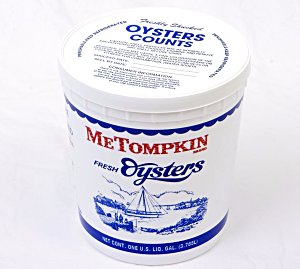 SHUCKED OYSTERS
SIZE/GRADE
CONTAINERS
ALL GRADES
#/CHEST PACK
EQ CONT.
Standards
8 oz.
96 Per Box
125 Per Cont.
Selects
12 oz.
72 Per Box
100 Per Cont.
Extra Selects
16 oz.
50 Per Box
75 Per Cont.
Counts
Gallons
6 Per Box
8 Per Cont.
SHELL OYSTERS
| | |
| --- | --- |
| SIZE/GRADE | PACKAGING |
| 160 Count Shell Oysters | Bushel Box |
| 240 Count Shell Oysters | Bushel Box |
| 80 Count Shell Oysters | 1/2 Bushel Box |
| 100 Count Shell Oysters | 100 Count Box |